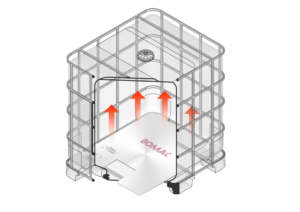 The IBC heaters BOMAC manufacture are of a solid construction to carry large weight and are sealed against the ingress of moisture to make them water resistant.  Whilst they are more expensive than the single use throw away aluminium foil heaters, they are designed to be reused making them more environmentally friendly, they can form part of the rental package you offer customers.  They are an aluminium plate sandwich construction with pre-set temperature limiters to protect both the product from spoiling and the IBC liner from damage due to overheating.  This system provides a fail-safe mechanism that can be made for any temperature requirement.
The product is easy to install and is CE marked.
Whilst the heaters are designed to last years if ever they do fail in use, for example someone runs over the cord with a forklift truck (this happens!),  we also offer a repair service so rather than have to throw out the heater we will repair it for reuse.
Over the past few years we have developed the product to further improve the durability and ease in which the power cable may be changed when damaged. This product revision we feel would be of interest to you.
The HBB is rated at IP66 following extensive life tests. These tests comprised of: –
Cycling the HBB at 10min on 20min off for 7 days
During the cycling tests we power washed the HBB in all directions (power on)
Drop tested the HBB on all sides from 1m approx.
Final abuse drop test the heater on the corner to deliberately try and make the unit fail. Following replacement of the damaged cable and straightening of the aluminium plates the heater passed PAT testing and then following further heat test cycles whilst power washing the HBB went on to pass PAT testing.